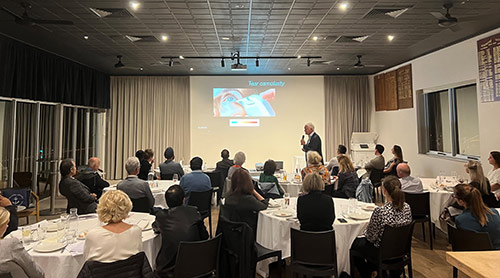 Peninsula Eye Centre and Beleura Private Hospital recently hosted an educational evening for local GPs titled "Eye Liner".  The CPD accredited event included presentations from ophthalmologists Dr Rick Wolfe, Dr Zelda Pick and Dr Justin Sherwin.
Presentations and discussions covered the following topics:
Irritated Eyes – blepharitis and dry eye – Dr Rick Wolfe, Ophthalmologist, Cataract and Refractive Surgeon
Oculoplastics case studies – eyelid, lacrimal and orbital disease – Dr Zelda Pick, Ophthalmologist and Sub-Speciality Oculoplastic Surgeon
Drugs and the eye – Dr Justin Sherwin, Ophthalmologist and Glaucoma Specialist
Thank you to all our guest GPs for participating in this valuable evening of interactive learning and discussion.