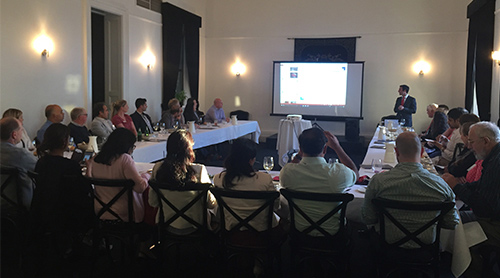 On 23th October, Peninsula Eye Centre and Beleura Private Hospital proudly hosted the "All Eyes – common eye presentations and emergencies" education evening featuring ophthalmologists Dr Justin Sherwin, Dr Elvis Ojaimi and Dr Rick Wolfe.
Presentations and discussions included:
A practical approach to managing eye problems for the General Practitioner – Dr Justin Sherwin (link name to profile)
Retinal emergencies from a GP's perspective – Dr Elvis Ojaimi (link name to profile)
Ophthalmology: Fundamental changes – Dr Rick Wolfe (link name to profile)
The CPD accredited event provided GPs with up-to-date clinical information.  Thank you to all our guest GPs for participating in this evening of interactive learning and discussion.